Lizard Joes Beach Club
Texas BBQ & Yucateca Seafood
Lizard Joe's Beach Club is a small town kinda place serving slow smoked Authentic Tejano Style BBQ and Yucateca Style Seafood with a Taste as BIG as Texas!
Located on the beach in the small fishing village of Chelem Yucatan Mexico, Lizard Joe's Beach Club is the Yucatan Home of Tequila Rock Legend Joe King Carrasco AY AY AY!!!
Lizard Joes is internationally known as one of the best BBQ restaurants on either side of the border serving up Authentic slow smoked brisket, pulled pork, pork ribs, beer can chicken and more ... our kitchen staff are from Chelem and cook all our Yucatan Seafood offerings using their own family recipies.

All our meats come from local ranches and are slow smoked over regional hardwood for up to 20 hours using non-commercial smokers for Authentic Backyard Tejano BBQ, our seafood is obtained from local fishermen and most of our produce comes from the local market in Chelem.

Lizard Joes will satisfy all your senses when it comes to what you expect from a Mexican beach restaurant and bar. Relax, beachside under our giant palapa or in our secure beach area. Feel the cool Gulf breeze. Enjoy and dance to great live music. Chow down on authentic Texas slow smoked BBQ or traditional Yucateca Seafood and wash it all down with your favorite cold beverage.
Seasonal Live Music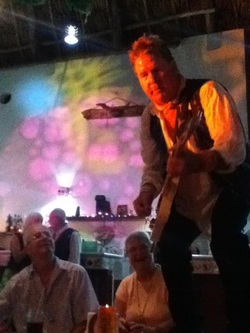 Lizard Joes is the PIONEER in Chelem bringing Live Music to the beach in 2008 and hosting music festivals since 2011. We have a passion for Live Music and provide a nurturing environment for music/musicians of the past, present and future to sustain the creative talent of local and visiting musicians providing opportunities and incentives for artists from all genres to add their energy to the positive vibes happening at Lizard Joe's. We have professional audio, video and lighting systems floor available to ensure all musicians can sound their best and get our guest out onto our dedicated dance floor.

Lizard Joe's welcomes any established, up and coming or amateur musicians/bands to showcase their talent as part of our "Sing for Your Supper" program where musicians/bands can try out new material or just have some fun performing for a diverse Lizard Joe's audience and be rewarded with a FREE Meal and 2 FREE Drinks. In addition, Lizard Joe's will donate the value of the meal(s) to a local charity selected by the musician/band.

Lizard Joe's features some of the best bands from the Yucatan and beyond. The Yucatan is rich in musical talent and Lizard Joe's is always on the look out for new bands to perform at Lizard Joe's So come to Lizard Joe's for a Great Live Music experience, delicious BBQ, Happy Hour Drink Specials and Dance the night away under the stars on a tranquil beach!
Fun in the Sun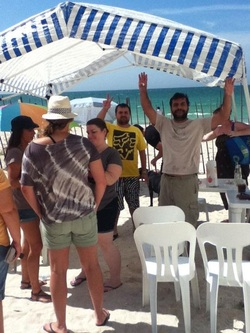 Lizard Joe's has everything you could ever need for a perfect day at the beach for your family, friends, group or special event!
Secure Beach Area
Beach Loungers
Outdoor Showers
Clean and Modern Bathrooms
Boogie Boards, Board Games, Cards ...
Pool Table
Wi-Fi
Projection TV
PA System
Let us help you coordinate your day at the beach with a customized menu, entertainment, decor and more.
Is Puerto Progreso one of the ports for your Carnival Cruise? We are only 10 minutes from the pier! Contact us and arrange to spend your day at Lizard Joe's with an all-inclusive price (food, drink, transportation ...)
Hours and Location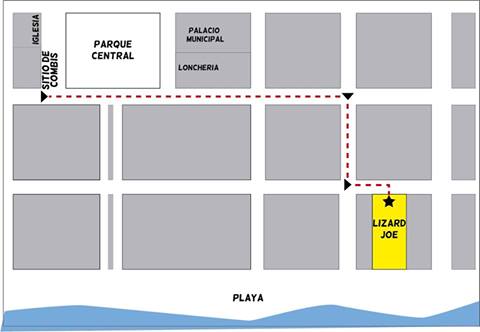 Current Hours of Operation:
Monday 4PM - 8PM
Tuesday-Thursday Closed
Friday 4PM - 11PM
Saturday 12PM - 11PM
Sunday 12PM - 8PM
We are happy to open on any of the days we are normally closed for your event, please contact us.
Check our Event page for Special Events Please note, Lizard Joes hours for Friday and Saturday nights change based on the seasons ...

Our Location
Calle 17 24 y 26 Chelem, Yucatan, Mexico

Coming from Merida or Progreso, drive straight across Chelem Square, turn right on the second street past the green Chelem Municipal building towards the beach (look for our sign) and then left on the beach road. Lizard Joe's will be on the beach side of the road Calle 17 between Calle 24 and 26. You can't miss the sign on the large bright yellow wall. For Private Parties please call for information.